Dining to suit every taste
From hamburgers to haute cuisine, you need travel no further than the Penrith City Centre to delight the tastebuds with new and interesting taste sensations. Whether you're craving fresh seafood, a juicy steak, hot Indian curry or traditional wood-fired pizza, the world of food is right at your doorstep.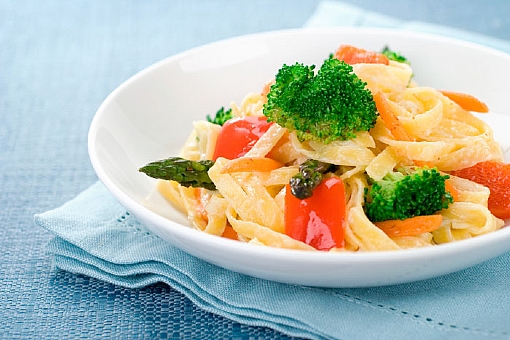 Catch up with a friend at a café such as Rogue Valley Roasters, or take a break from shopping at one of Penrith Plaza's fantastic food courts. Celebrate a special occasion at one of Penrith's renowned restaurants, or grab a bite to eat while listening to a band at the local pub.
Who needs to visit Paris, London, New York or Rome for the finest food when it's all right here in Penrith!
From breathtaking breakfasts and luscious lunches to delectable dinners and desserts, dining in the Penrith City Centre is an experience that no dedicated lover of food can afford to miss.
Feeling a little peckish? As well as fast-food favourites such as McDonalds, Pizza Hut and KFC (which will please the kids!), there are plenty of attractive cafés dotted around the city centre with scrumptious sandwiches, pastries and salads to tempt the tastebuds. Try Cottage Lane Café Gourmet, Nadia's Café in Penrith Plaza or Subway for a light lunch or appetising afternoon tea.
At the other end of the scale, à la carte dining at its best can also be found within Penrith. La Notte Italian Restaurant offer up-market cuisine for connoisseurs of fine food.
The exquisite delicacies of the East await you in one of the many Chinese and Thai restaurants in the Penrith City Centre, such as the Happy Inn, New Fortune Palace Chinese, Akira Teppanyaki, Bai Bua, Aroy-d Thai or Three Junction Thai. Order a banquet and, as you sample the unique specialties of the house, you will be transported to the mystical Orient.
If the richness of Italian food is more to your liking, you can't go "pasta" the mouth-watering array of Italian restaurants in the city centre. From Ristorante Trevi, and Panarotti's to Sittano's Bar and Restaurant and Valentino's Restaurant, the distinctive flavours of each region of Italy come to life.
For a dining experience that is definitely out of the ordinary, The Village Penrith invites you to a feast that is fit for royalty! Situated within one of Penrith's most beautiful old churches, this converted church hung with colourful trinkets and artworks, for breakfast, pizza and bistro fare that will satisfy even the most ravishing of hungers.
Looking for a fun night out that combines food and music? The famous Red Cow Inn is the place to go. Not only do they serve great meals in the bistro, but they also have rollicking bands to entertain the crowd. Close to Penrith you'll find O'Donoghue's Irish Pub which features hearty Irish fare, including an amazing beef and Guinness stew, and the best in local Celtic entertainment. A little further out of Penrith is Vicary's Winery, with terrific three-course meals, wine-tasting and bush bands to get the toes tapping.

Whatever your preference, let Penrith's restaurants entice you with their incomparable selections of international and Australian dishes.
View Penrith Australia's Restaurants and Cafes >>