News Stories
Cafes in Penrith committed to Higher Welfare Food
By RSPCA Australia
Posted: 11 Jun 2021
Australians care about farm animals. Three out of four people agree that when eating at a restaurant or café, it's important that the meat, eggs and dairy products served, come from animals farmed in a humane and ethical way.
The RSPCA's Choose Wisely initiative makes it easy to find venues that source food from higher welfare farming systems, such as cage-free eggs. A local business in Penrith, is now included on the listing.
Many Australians don't realise that while cage eggs are appearing less and less on supermarket shelves, the majority of eggs used in food service are still cage eggs. So while you might be choosing cage-free eggs in the supermarket, you could be unintentionally eating cage eggs when dining out. Hens are smart, curious and social animals. Sadly though, more than 10 million egg-laying hens are still confined to barren battery cages in Australia. The RSPCA and many Australians would like to see this end. The Choose Wisely directory helps diners find out which venues near them source cage-free eggs for their menu and can make it easier to ask about where eggs have come from too.
Regardless of people's personal choices about eating eggs and meat, there is potential for everyday Australians to make a real difference to the lives of millions of farm animals by how we shop and where we eat. Improvements to the welfare of Australia's farm animals will come from every day Australians supporting higher welfare farming practices and we can do this by supporting restaurants and cafes that source higher welfare foods and by encouraging others to do the same.
Choose Wisely is completely free to use and has the potential to create change by growing demand for higher welfare food such as cage-free eggs. One venue in Penrith, The Natural Choice Café, is committed to serving higher welfare food and is now recognised for this effort on the Choose Wisely directory. No matter whether you're a local or a visitor, Penrith offers an option for anyone wanting to help improve the lives of Australia's farm animals when dining out.
Recent News
What's New
INVENTI ENSEMBLE - Chamber Quintet
Blue Mountains Concert Society
Sun 22 Aug 2.30pm, Blue Mountains Theatre, Macquarie Rd, Springwood. Book online, at the box office or (02)4723 5050
Uphire - Access Equipment Specialists
Uphire Pty Ltd
Uphire has an experienced team of qualified personnel - Call UPHIRE on 1300 87 44 73 to see how they can help you!
Nepean Office Furniture
Nepean Office Furniture and Supplies
See our huge range online or visit us at our showroom: 3 Robertson Place, Penrith!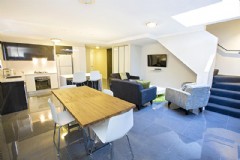 Modern Serviced Apartments in Penrith
Astina Serviced Apartments
1, 2 and 3 bedroom apartments - all the comforts of home at affordable prices.
See also: