News Stories
Foxes Targeted in Mulgoa Spring Campaign
Source: Greater Sydney Local Land Services
Archived 8 Oct 2019
- Posted: 10 Aug 2019
For the past three years, Mark Fuller and his fellow members of the Cumberland Land Conservancy (CLC) have worked to actively reduce fox numbers on "Wallaroo" their 38 ha property in Mulgoa with the support of Greater Sydney Local Land Services.
As more and more foxes were removed from the area, the landowners also witnessed the native animal population return with sightings of quails, wallabies, wallaroos and wombats increasing daily.
But while their efforts have made a difference, foxes and other feral pests such as deer continue to impact on the area, preying on wildlife as well as livestock.
"While we have had success on our property, we need support from the broader community to really have a great impact on the populations," Mr Fuller said.
For that reason, the CLC and Greater Sydney Local Land Services have joined forced to form the Mulgoa Vertebrate Pest Group (MVPG) in a bid to drum up more community involvement and tackle the problem head on.
The group will host its second public workshop this month to talk about the upcoming fox control campaign in the local area.
"Foxes pose a serious threat to the local wildlife as well as domestic pets, livestock and the environment," GS LLS officer Dr Alison Towerton said.
"The group and our upcoming campaign are about taking a whole of community approach to fox management which includes training for landholders in cage trapping as well as laying baits safely. We will also talk about the increasing number of deer sightings and damage to infrastructure that have been recorded in the area," she said.
The meeting will be held on Wednesday, 14 August 2019 at the Mulgoa Hall, 349 Littlefields Rd from 6pm.
Register online or contact Mr Fuller on 0424 440 140.
This article archived 8 Oct 2019
Recent News
What's New
BACH, FAMILY & FRIENDS
Blue Mountains Concert Society
Sat 14 March, 7.30pm, Blue Mountains Theatre, Macquarie Rd, Springwood 2777
Nepean Office Furniture
Nepean Office Furniture and Supplies
See our huge range online or visit us at our showroom: 3 Robertson Place, Penrith!
Penrith Towing Service - Tilt Tray
Penrith Towing Service - Tilt Tray
Offering a wide range of transport options, for a wide range of vehicles. Contact us on 0414 869 464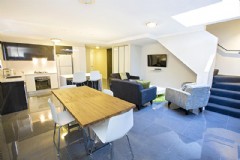 Modern Serviced Apartments in Penrith
Astina Serviced Apartments
1, 2 and 3 bedroom apartments - all the comforts of home at affordable prices.
See also: