News Stories
John Bell & Simon Tedeschi - Echoes of The Jazz Age
Source: Penrith Performing & Visual Arts
Archived 9 Nov 2019
- Posted: 10 Sep 2019
Theatre icon and National Living Treasure, John Bell AO OBE and internationally acclaimed pianist, Simon Tedeschi join forces with the amazing Blazey Best in a world premiere collaboration celebrating the Roaring Twenties and all things jazz through words and music, on Saturday 21 September at 7.30pm at The Joan.
Bell is one of Australian theatre's most illustrious figures, having played a role in the development of our nation's rich artistic culture as an actor and director, and founder of Bell Shakespeare. Tedeschi is one of the most acclaimed and sought-after pianists in Australia, known equally for his performances of Schumann, Grieg and Mussorgsky as his Gershwin and jazz collaborations.
Held together by Scott Fitzgerald's famous essay Echoes of the Jazz Age, the programme includes snippets of T.S. Eliot, Groucho Marx, Mae West, W.C Fields and Dorothy Parker along with the music of George Gershwin, Fats Waller, and Jelly Roll Morton.
Immerse yourself in the atmosphere and enjoy a 1920s themed cocktail from the bar before the performance, and stay back for a Q & A and a chance to meet the artists after the show.
Dazzling music, a touch of gravitas and just a whiff of nostalgia… a tantalising trip back in time with John Bell and Simon Tedeschi – plus the brilliant Blazey Best.
---
Tickets
Standard $60 | Concession $55 | Under 30's $30
CAST & CREATIVES
John Bell / Orator
Simon Tedeschi / Pianist
Blazey Best / Vocals
This article archived 9 Nov 2019
Recent News
What's New
BACH, FAMILY & FRIENDS
Blue Mountains Concert Society
Sat 14 March, 7.30pm, Blue Mountains Theatre, Macquarie Rd, Springwood 2777
Nepean Office Furniture
Nepean Office Furniture and Supplies
See our huge range online or visit us at our showroom: 3 Robertson Place, Penrith!
Penrith Towing Service - Tilt Tray
Penrith Towing Service - Tilt Tray
Offering a wide range of transport options, for a wide range of vehicles. Contact us on 0414 869 464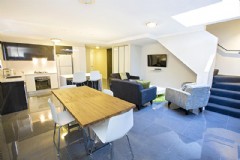 Modern Serviced Apartments in Penrith
Astina Serviced Apartments
1, 2 and 3 bedroom apartments - all the comforts of home at affordable prices.
See also: