News Stories
McIntosh Welcomes 2019 IBSA Goalball Youth World Championships
Source: Melissa McIntosh MP, Federal Member for Lindsay
Archived 6 Oct 2019
- Posted: 7 Aug 2019
On Monday, the Federal Member for Lindsay, Melissa McIntosh MP attended the 2019 IBSA Goalball Youth World Championships at the Penrith Valley Regional Sports Centre.
"It's fantastic that Penrith Valley Regional Sports Centre is hosting the Goalball Youth World Championships. Welcome to our international athletes from eleven different countries and good luck to all the young people representing Australia."
"From August 5 to August 9 the Championships will be held in Penrith, with 130 athletes and coaching staff from 11 different countries. This is something that our community should be incredibly proud of. Penrith has a great international reputation as a city that hosts world-class sporting events."
"Goalball is the original team sports for low vision and blind athletes in the Paralympic Games. In NSW over 4,500 students participate across 154 schools and we're showcasing this talent right here in Penrith." said Ms McIntosh.
This article archived 6 Oct 2019
Recent News
What's New
BACH, FAMILY & FRIENDS
Blue Mountains Concert Society
Sat 14 March, 7.30pm, Blue Mountains Theatre, Macquarie Rd, Springwood 2777
Nepean Office Furniture
Nepean Office Furniture and Supplies
See our huge range online or visit us at our showroom: 3 Robertson Place, Penrith!
Penrith Towing Service - Tilt Tray
Penrith Towing Service - Tilt Tray
Offering a wide range of transport options, for a wide range of vehicles. Contact us on 0414 869 464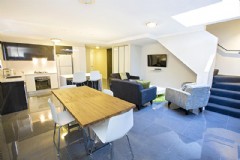 Modern Serviced Apartments in Penrith
Astina Serviced Apartments
1, 2 and 3 bedroom apartments - all the comforts of home at affordable prices.
See also: