News Stories
Melissa McIntosh, Federal Member for Lindsay's Maiden Speech
Source: Melissa McIntosh MP, Federal Member for Lindsay
Archived 23 Sep 2019
- Posted: 24 Jul 2019
On Monday 22nd July 2019, the Federal Member for Lindsay, Melissa McIntosh MP gave her maiden speech in the House of Representatives Chamber, Parliament House.
Mrs MCINTOSH (Lindsay) (12:03): Mr Speaker, colleagues, family and friends that are here today, Lindsay is in so many ways a microcosm of the Australian community. It's got families, it's got retired people, it's got lots and lots of small businesses and it's got a very strong community spirit. These are the words of former Prime Minister Howard OM AC on his visit to Lindsay during the campaign—and, as always, former Prime Minister Howard is right—'From Menzies' forgotten people to Howard's battlers to Morrison's quite Australians, Lindsay has been and will remain a microcosm of Australia.'
Former Prime Minister Menzies called the forgotten people the backbone of our nation. In the 1950s, nowhere was this represented more than in outer Western Sydney. Penrith was a nucleus for the transformation of market farming into suburbia, where the aspirational working class were moving out of the city to secure their slice of the Australian dream and a better life for their families. Back then, most people travelled by train into the city only a couple of times a year. Today, hundreds of thousands of people commute out of Western Sydney daily.
By 1996 and the election of Jackie Kelly to Lindsay, Western Sydney had changed significantly. The outstanding win in Lindsay was so significant that we became the epicentre for the Howard battlers. This is because Prime Minister Howard was able to do what Menzies did before him: reach into people's hearts and light their aspiration. I had the privilege to work for Jackie Kelly and Prime Minister Howard. What I learnt most from both of them was the importance of spending time listening to and connecting with people and to have conviction. Today, Lindsay is very much the heartland of Morrison's quiet Australians. But as Menzies's forgotten people become our older Australians we must not forget them again, and as Howard's batters wind up their careers as hardworking Australians we must not forget them, just as Morrison's quiet Australians have not been forgotten.
From working for Prime Minister Howard to working with Prime Minister Morrison, it is now my responsibility to ensure the aspirational people of Lindsay, working hard to get ahead for their families, continue to be listened to and fought for. It is with an enormous amount of gratitude to this microcosm of Australia, our community of Lindsay, that I humbly stand before you today to make my inaugural speech to parliament. Thank you for placing your trust in me to represent you, to deliver my plan for Lindsay and, as Prime Minister Howard also said in Penrith that day, I promise to work for you very, very hard. I will fight for the people who are working hard for their families and commuting out of the area every day for a good job. They have said they don't want to be doing that long commute. They want jobs close to home. Today, only five per cent of people in Western Sydney live within 30 minutes of their work. As someone who commuted for over 10 years, there is nothing I want more for our community than good local jobs.
I will fight for our families who want a healthy community, better recreational and sporting facilities and a beautiful Nepean River. This is why I announced funding during the election to keep our river healthy, and to upgrade Chapman Gardens in Kingswood and Penrith Valley Regional Sports Centre in Cambridge Park for all our families to enjoy. For the mums and dads who drive their kids to school, I'll fight—and for our tradies who use our roads for work. They've said they want less congestion and to get to where they're going, and home again, safer and quicker. There is nothing more on my mind than our community's safety and ensuring that people's loved ones get home, because I know the feeling when they don't.
My husband, Stuart, would often cycle from home, in Emu Plains, to the Penrith Whitewater Stadium to train when he was an Olympic athlete. Cycling was just part of his training regime. One evening Stuart didn't come home. I called everyone we knew. I put the kids in the car and drove the route, back and forth, between our house and the stadium. Instinct told me where he was. I rang Nepean Hospital, and this is where I found him. Stuart had been hit by a car, on Castlereagh Road, and flew off his bike onto his head. In that instant, the injuries he sustained ended his sporting career. Safer, less congested roads are very much part of my plan for Lindsay. I was so pleased that, thanks to the community's support for my petition, Prime Minister Morrison announced $63½ million for the upgrade to Dunheved Road, and I am very committed to its delivery.
I will fight for small businesses, like Emu Plains Automotive Repairs, Bubbles Florist, Kingswood Florist and the well-known cafes in Penrith—The Natural Choice, Thor's Cafe, Bethany's, and Ratha's Place in St Marys— to name a few, people who are having a go. They have said they want to have a strong local economy and fewer taxes on their businesses so they can focus on what they do best for their customers.
I'll fight for retired people, like 92-year-old Glad. She's in North St Marys, and I met her at her home. She lived alone and still tried to stay active in her garden. As our community ages I will ensure they are not forgotten. How fortunate are we when we have people in our corner, always, especially when we get older. When I meet people in our community who don't have this, it breaks my heart—women who, after years of contributing to our society, find themselves in older age experiencing homelessness and older people in their homes experiencing loneliness.This concerns me greatly and I've seen both, working in a social housing and homelessness organisation and doorknocking over months throughout our community.
It is so important as people get older that they have a support network, whether family, friends or in the community. I know this firsthand. Just over two years ago my parents lost our family home of 40 years to fire, and every single material belonging they owned. I will never forget the feeling of not being able to get to them quickly enough, pulling my car over at the top of the street and running as fast as I could down its length, past fire trucks, police cars and people, with that terrible smell of fire getting stronger, and to turn the corner to see flames and the last remnants of the house burning. But we didn't lose my parents, and it is our families and friends, and their love for each other, plus my parents' inbuilt drive, that got them through.
I worry for people who, in older age, don't have that, especially when they need it most. And I will fight to maintain our very strong community spirit. This is a foundation of a great community. In Lindsay, community spirit is not just in our foundation; we are full to the brim and overflowing with it. I'll never forget the day that a local man who I know doesn't have much for himself brought me a cup of tea and a slice of cake at prepoll. It was the community spirit that kept me going throughout the campaign, and I would like to thank everyone who was kind to me during this time.
I was proud to be here for the opening of the 46th Parliament, where we honoured our country's First People. I would particularly like to acknowledge the traditional custodians of the land of Lindsay. There are over 6,000 Aboriginal and Torres Strait Islander people in Lindsay, and there are many local organisations supporting our Indigenous community, like Nepean Community & Neighbourhood Services in Cranebrook, whose breakfast club ensures that kids have something good to eat before they go to school. I was very pleased that I was able to secure funding for a new bus so that kids could be picked up from home to go to breakfast and then be dropped at school. Cheese-toastie Wednesdays are the best! I would like to give my happiest wishes to all the kids and families who visit the breakfast club.
There are many people I would like to thank who have played a special part in my journey to this place. I can't name you all, but there are a few I do want to mention—firstly, our Prime Minister, Scott Morrison: thank you for your time, support and advice. I am very grateful that your first stop during the election was in Lindsay, to visit our river, where you used to row as a kid, and you've been back a lot of times since. You are always very welcome. People in our community know that you are committed to us—except when our beloved Panthers play at Shark Park!
And I mention my first, second and third political bosses—the former member for Lindsay, the Hon. Jackie Kelly, who gave me my first job out at Western Sydney University; Prime Minister Howard, who I had the privilege to work for here in Canberra at the age of 22; and the Hon. Alex Hawke, who I have long called friend and can now call colleague. I have served in the offices of each of you and have been the beneficiary of your political guidance, and it means a lot that you believed in me and are proud to see me in this place. Alex, thank you also for your support in my campaign for Lindsay.
Another powerhouse in our great Liberal Party who has been a mentor and friend is Senator the Hon. Marise Payne—my thanks to you—and the Hon. Stuart Ayres. I am fortunate to be able to work alongside you both now for the people of Penrith, Lindsay and Western Sydney, and with my state colleague from Mulgoa, the Hon. Tanya Davies; Penrith mayor Councillor Ross Fowler OAM and our Penrith Liberal councillors. I want to mention the Hon. Robert Hill AC, our former defence minister, who served as a senator for 25 years. Thank you for being here today. Robert, along with another great friend and mentor, who is also here—Kevin McCann AC —helped guide my way back to politics when we were together at the US Studies Centre at the University of Sydney and, along with Craig Purcell, supported me to start my own think tank program at the centre; W21, the 21st century global women's initiative, allowed me to explore important issues around women and work, and to work with the world's best academics in this space.
To former president of the New South Wales Liberal Party and good friend Nick Campbell and federal president Nick Greiner: you have both given me so much of your time and guidance and have helped support the political pathway of many women in our great Liberal Party. To New South Wales state director Chris Stone, deputy campaign director Luke Nayna and campaign officer Bonnie Marshall—always in my corner. Locally, there is my campaign team and the Lindsay conference, led by president Glenn Gardiner—and my special thanks to Moe Rumman.
I also want to mention our extended Liberal Party family, Alex Hawke's Mitchell conference, and the Hume and Bradfield conferences and their MPs, the Hon. Angus Taylor and the Hon. Paul Fletcher. I thank all of those whose support enabled us to run such a fantastic campaign and the volunteers who walked and stood with me over those many weeks of campaigning, some of whom are here today. I would like to acknowledge Fiona Scott, the former member for Lindsay; former New South Wales women's council president Chantelle Fornari- Orsmond; Scott; Maureen; and Deni Hastings. I thank the people for whom it didn't matter if it was a freezing cold morning at a train station or an all-day campaign; they were there. It was not only members of our Liberal Party but hardworking locals.
I thank all of my coalition colleagues who have supported me on the campaign and since entering the 46th Parliament. It is our Morrison government policies that are going to make hardworking people's lives better. It was very special for me to join you to pass the income tax cuts that mean that around 77,000 Lindsay residents, who are working hard and aspirational, will be keeping more of than own money.
On a personal level, I am a proud Liberal who is grateful for good Liberal Party policy. It was Menzies' 1950s policy that I can thank for being here today. In the late 1950s, a very important invitation from the Prime Minister travelled the seas to a little town in Austria called Graz. My dad had been through war and lost his whole family. He lost his mum, his dad and his sister. He was raised by his grandmother. When she died, there wasn't much to keep him there. He worked hard and saved. When he was 23 and the invitation came from Menzies to create a new home in Australia, dad was aboard that ship. He came with only a few material possessions, but one of the most important things he came with was his drive to have a go.
Mum had an equally modest upbringing. My grandmother was one of 12 children and life wasn't always easy. Just like with my dad, mum changed her life by working hard. When times were a bit tricky, she dug in and worked harder. Just to show how working hard has its benefits, it was through both of my parents working in the same manufacturing company, at a time when manufacturing was booming in Western Sydney, that they met and fell in love. Mum and Dad worked hard for what they built, and I hopefully I received 100 per cent of the gene pool for hard work and aspiration. Growing up, I was enthusiastically encouraged to pursue my dreams. Taking responsibility, working hard for your success and love of family are attributes I am very grateful have been given to me by my parents.
It does take a village to raise a family. It is a very noisy village, filled with all of our beautiful kids, that drives me most: my sister Karen and her family; my brother Craig, his wife Belinda and their kids; and my brother Conrad, who helped his little sister on the campaign, his wife Debbie and their children too. There are over 20 of us. Many are here today. I would like to acknowledge Shereen and Gavin from Queensland. My greatest thanks are to Rhonda and Edmund, the best mum and dad in the world. Thanks, mum. Thanks, dad. I thank my husband Stuart and our most beautiful, smart and caring children, who are everything to me. There is Byron, our 16-yearold: I am so proud of what he is achieving in year 11 as he gets ready for the next phase of learning. Coby, our 11- year-old, has such a wondrous interest in wireless connections and landline internet connections—anything that powers Fortnite. There is Summer, who is so fast at running that it is now her mum saying, 'Wait for me.' Your
encouragement and belief in me has allowed me to follow this political path. Thank you. I love you all greatly.
My political journey isn't as straightforward as some who come into this place. How does one go from training all of their young life as a dancer to being a parliamentarian? They have Conrad and Penelope Helfrich, two of our country's legends in the performing arts industry, instil at a young age the lifelong practice of professionalism, grace and always being on time. I shan't ever be late to question time, thanks to these two people who are here today from Melbourne. Dancing was everything to me when I was young. One of my first memories of Penrith was performing in a talent quest on stage in the old Penrith High Street mall. It was to 'Eye of the Tiger', so it was definitely the eighties. You can imagine my delight when I walked into Friendship Day celebrations last week, which connects people with disabilities in our community, and heard that very song playing and saw the dance floor in full swing. How could I do anything but join in? Congratulations to NADO for such a beautiful day that brought everyone, including me, so much joy.
My political career started with great enthusiasm when I was 21, fresh out of Western Sydney University. I am so proud to be an alumni of this world-class university and look forward to ensuring that it goes from strength to strength over the coming years as our children are educated in Lindsay's jobs of the future. The education I received here was the springboard for so many opportunities throughout my career.
At 23, I entered the corporate world. Like many young people and young women, I was rushing to get ahead and achieve it all before kids. I was also the girl from Penrith wanting to be the best and to take all the opportunities. People from Western Sydney are really committed; if you have to commute three hours a day or more for your job, you have to be.
But then an experience changed things. I was given a wonderful opportunity to travel to New York for work. A couple of days out from my departure, the trip was cancelled. I was disappointed. I was going to be staying at the famous Twin Towers. I would have been in one of those towers on September 11. I will never forget that day, sitting in an almost empty office in Sydney, about 20 storeys up overlooking Hyde Park, wondering what would have happened if I had made it to New York. Rushing for a career wasn't so important after that, so I put it on hold and I went travelling the world with Stuart and his sporting career. I also became a mum, and we visited over 20 countries with our first child, Byron, before he was one. He says he doesn't remember it. Travelling with a baby was an amazing and, at times, wonderful experience—overwhelming!—but it was one that made me value even more our beautiful country, which truly is the best in the world. When we returned home, my career changed paths again, including a time when I thought it would be a great idea to have my own small
business and a travelling with kids website with my good friend Rebecca Collins, who is here today. Rebecca journeyed with me to create business ideas and inventions that would solve all the parental troubles of the world. How good are mum start-ups.
All three of my children were born in Nepean Hospital like me, and I have always worked. I think the balancing act as a working mum is something that takes a lifetime of practice. Sometimes this has been very hard. I remember dragging myself onto the train at 7 am each morning for the long commute into the city for my job, very pregnant and very tired. Sometimes people didn't offer you their seat. Sometimes I would have been anywhere else but on that train. My story isn't very unique, particularly in Lindsay. It's about family, hard work, opportunities and aspiration. I think this has always been the Lindsay way.
I was very fortunate to introduce the Premier of New South Wales at a Menzies Research Centre event, and I would like to acknowledge the Hon. Gladys Berejiklian for her support of my campaign. It was at this event that my friend and Menzies centre director, Nick Cater, declared me to one of the best thing to happen to Penrith since the first train in 1863. This is a wonderful compliment, as the introduction of the railway transformed Penrith which, right up until the First World War, served as a major railway town. Just as rail transformed Penrith in the 1800s, rail will again play a major role in its transformation in the future, with a north-south rail link from St Marys to Badgerys Creek opening in 2026 in time for the airport.
But rail won't be the biggest thing to happen to Penrith or, indeed, the whole community of Lindsay. This time, it will be air travel. With it, people in Lindsay finally will have the full potential to realise the aspirations they have always had. Western Sydney International Nancy-Bird Walton Airport has the potential to be transformational not only for Western Sydney but for our whole country. The blueprint that has been decades in the making is now being brought to life and the result will be thousands of jobs, expanded export opportunities and new industries that we haven't yet thought of. Every dollar invested by the government in the airport will generate $1.80 in return to our economy. By 2063, the airport will contribute over $5.8 billion per annum to our national economy, while business profits are forecast to increase by $2 billion a year. The key to unlocking all this is the aerotropolis and local jobs—in agriculture with local produce exported to Asia and the world, in tourism and advanced manufacturing, and even in world-class space manufacturing capability that could boost and transform
our national space industry. But we aren't there yet. Building the puzzle and bringing it all together is going to be a huge task in persistence and determination, and it is what I'm committed to do.
The thing is, we have the smarts and the drive in Western Sydney, and it's time we stopped exporting them. No longer do people in Lindsay have to go somewhere else for their aspiration. People want to live, work and stay in our community, and as parents, we want our kids to stay too. How do we move the dial so that more people can work where they live? The answer is in Lindsay. We ensure that Lindsay's world-class education institutions, which are going to be taking full advantage of western Sydney's supercharged infrastructure development, are training our local kids in the jobs of the future. This starts in school and connects all the way through to post school education and workforce training. We also activate our full workforce potential.
In 2014, when I was at the US Studies Centre, I created and led the International Dialogue on Women in Leadership, a G20 event in partnership with my friend Russell Trood at Griffith University. Sadly, Russell is no longer with us, and I would like to acknowledge his service as a senator. I hope, Russell, you would be proud that I am here. The international dialogue examined how we would reach the G20's target of reducing the gender gap in workforce participation by 25 per cent by 2025. Why are we doing this? For sustainable economic growth.In Australia, an increase in women's participation could add $25 billion to our country's economy. If we can do it as a nation we can do it in western Sydney.
Encouraging female workforce participation and providing opportunities in the industries that will feature with the development of the airport, manufacturing, agriculture, science and technology are going to be key to ensuring we are reaching our full workforce potential. I've seen it on a national and international level and I know it will work on a local level.
When I created a program for a community housing provider and consulted, again, with world-leading academics to transition women in social housing to economic and housing independence, it was their ability to find and sustain work that would ultimately transform their lives—women who had experienced intergenerational welfare, women who were escaping domestic violence and women who had the aspiration they just needed the opportunities, and that's our Liberal way. There are many pieces to the puzzle. Educating our local Lindsay kids in the jobs of the future and activating our full workforce potential are just two that we can begin now.
As Prime Minister Morrison says, 'It's what we do now in policy making that will have a lasting outcome for the next 10 years and more.' It is so important we get it right. Not forgetting or leaving behind Howard's battlers and Menzies' forgotten people, it is now time for Morrison's quiet Australians of Lindsay to fulfil the aspirations we all share. There is never going to be a better opportunity for us to be front and centre driving our own economic future. A job within 30 minutes of home is just the start, not the end, of what we can achieve together.
I would like to conclude with a quote that means something to me personally from the former US Secretary of State, Condoleezza Rice. She said:
You will make a difference in the world, but not immediately. Your first obligation is to find something you like doing, because if you like doing it, you'll do it well.
I love representing our community, working hard to fulfil their aspirations and delivering my plan for Lindsay and, with God's blessing, I hope I will do it well. That is why I could confidently say on election night, 'I will promise I won't let you down.'
This article archived 23 Sep 2019
Recent News
What's New
BACH, FAMILY & FRIENDS
Blue Mountains Concert Society
Sat 14 March, 7.30pm, Blue Mountains Theatre, Macquarie Rd, Springwood 2777
Nepean Office Furniture
Nepean Office Furniture and Supplies
See our huge range online or visit us at our showroom: 3 Robertson Place, Penrith!
Penrith Towing Service - Tilt Tray
Penrith Towing Service - Tilt Tray
Offering a wide range of transport options, for a wide range of vehicles. Contact us on 0414 869 464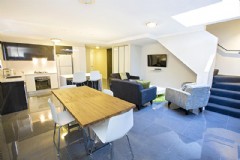 Modern Serviced Apartments in Penrith
Astina Serviced Apartments
1, 2 and 3 bedroom apartments - all the comforts of home at affordable prices.
See also: