News Stories
Path to Everest is Screening in May 2019!
Source: Adventure Entertainment
Archived 2 Jul 2019
- Posted: 6 May 2019
Introducing the newest addition to Adventure Entertainments adventure films, Path to Everest.
Adventure Entertainment are very excited to announce that they are screening in Canberra, Darwin, Sydney (George Street and Macquarie), Wollongong, Burwood, Central Coast (Tuggerah), Hornsby, Castle Hill, Cronulla, Blue Mountains, Albury and Wagga Wagga.
About Path to Everest
Kilian Jornet, the best mountain runner in history, wrote as a child a list of all the races he would like to win and all the mountains he dreamed of climbing.
In May 2017 he ticked off the last on the list with the historic double, solo ascent of Everest without oxygen and in a single climb. It marked the climax of the Summits of My Life project which over five years took him to some of the world's most famous peaks, accompanied by a small group of climbers.
Path to Everest, directed by Sébastien Montaz-Rosset and Josep Serra, follows the path that led Kilian Jornet to the highest peak in the world in an intimate portrait that reveals his fears, contradictions and his desire to keep seeking new challenges so that he can continue to dream, surrounded by the mountains and people who are his inspiration.
This article archived 2 Jul 2019
Recent News
What's New
BACH, FAMILY & FRIENDS
Blue Mountains Concert Society
Sat 14 March, 7.30pm, Blue Mountains Theatre, Macquarie Rd, Springwood 2777
Nepean Office Furniture
Nepean Office Furniture and Supplies
See our huge range online or visit us at our showroom: 3 Robertson Place, Penrith!
Penrith Towing Service - Tilt Tray
Penrith Towing Service - Tilt Tray
Offering a wide range of transport options, for a wide range of vehicles. Contact us on 0414 869 464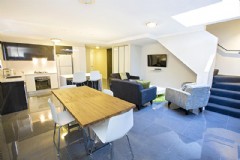 Modern Serviced Apartments in Penrith
Astina Serviced Apartments
1, 2 and 3 bedroom apartments - all the comforts of home at affordable prices.
See also: