News Stories
Penrith Community Groups Invited to Apply for NSW Government Infrastructure Grants
Source: Stuart Ayres MP, Member for Penrith
Archived 14 Oct 2019
- Posted: 16 Aug 2019
Stuart Ayres MP, Member for Penrith encourages local community organisations in to apply for funding to support local projects under the NSW Government's Infrastructure Grants program.
Stuart Ayres said $12.5 million is available in the 2019/20 program for new or upgraded facilities across sport and recreation, arts and culture, disaster readiness and community infrastructure.
"I encourage local organisations to consider applying for a project that will help make a real difference to the local community," Stuart Ayres said.
"The 2019/20 program and has been expanded to support projects that build community connections and the application process has been streamlined to make it easier and quicker.
"For the first time, the grants are available for projects that support youth, mental health, homelessness and domestic violence services as well as drought-affected communities."
Stuart Ayres said that since 2013, the NSW Government has funded over 320 community projects worth $78 million under the Infrastructure Grants program.
Previous recipients have included projects such as the Nepean Hockey Association for refurbishment of the hockey centre, Penrith City Council's Jamison Park upgrade, Kingwood High School's oval refurbishment and Penrith City Council to upgrade the audio visual at the Joan Sutherland Performing Arts Centre.
The grants are made possible by the Clubgrants Category 3 Fund which re-invests profits from gaming machines into community projects. Funding is available for infrastructure projects in three key areas:
Arts & Culture
Disaster Readiness & Community Infrastructure
Sport & Recreation
Applications for the first round of funding for 2019/20 are now open and close on Monday 26 August. If community organisations are unsure whether their projects are eligible for a grant, they can contact 9995 0992.
This article archived 14 Oct 2019
Recent News
What's New
BACH, FAMILY & FRIENDS
Blue Mountains Concert Society
Sat 14 March, 7.30pm, Blue Mountains Theatre, Macquarie Rd, Springwood 2777
Nepean Office Furniture
Nepean Office Furniture and Supplies
See our huge range online or visit us at our showroom: 3 Robertson Place, Penrith!
Penrith Towing Service - Tilt Tray
Penrith Towing Service - Tilt Tray
Offering a wide range of transport options, for a wide range of vehicles. Contact us on 0414 869 464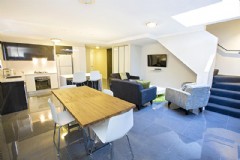 Modern Serviced Apartments in Penrith
Astina Serviced Apartments
1, 2 and 3 bedroom apartments - all the comforts of home at affordable prices.
See also: