News Stories
Penrith Conservatorium Presents; Pop Vox - A New Contemporary Youth Voice Ensemble
Source: Joan Sutherland Performing Arts Centre
Archived 7 Jul 2019
- Posted: 8 May 2019
Join Pop Vox - Penrith Con's new contemporary pop chorus - for the opportunity to sing alongside other talented upcoming vocalists in this new series of professional classes for 13 – 19 year olds.
Sing arrangements of popular favourites from your contribution, work together with your peers and vocal professionals to create your own sounds in an ensemble. Learn the craft of singing in a group – Penrith Con invites both young male and female artists to join!
Pop Vox will focus on pop/semi-classical music styles with a crossover into other popular genres as directed by the tutor. The ensemble will explore array of works from contemporary artists, re-arranged, mashed up, and delivered back to audiences with a high level of vocal artistry. Students will develop and explore a mixture of solo and ensemble work with harmonies and blending, as well as create unique sounds with the voice with acapella training.
Pop Vox classes will begin on Thursday 16 May and run weekly for 1.5 hours over an 8 week term.
HOW TO APPLY
Entry to Pop Vox is via audition.
Students who have had a minimum 6-12 months vocal tuition experience –OR- 20 hours of formal one-on-one lessons will need to submit one or two videos of two contrasting songs in the pop genre, unaccompanied by music via email
DETAILS
Time: Thursdays 4:15pm-5:45pm
Term 2: 16 May to 4 Jul (8 weeks)
Term 3: 8 Aug to 26 Sep (8 weeks)
Term 4: 24 Oct to 12 Dec (8 weeks)
Cost: $179 per 8 week term
Location: The Joan Sutherland Performing Arts Centre
Teaching Artist: Clare Richards
This article archived 7 Jul 2019
Recent News
What's New
BACH, FAMILY & FRIENDS
Blue Mountains Concert Society
Sat 14 March, 7.30pm, Blue Mountains Theatre, Macquarie Rd, Springwood 2777
Nepean Office Furniture
Nepean Office Furniture and Supplies
See our huge range online or visit us at our showroom: 3 Robertson Place, Penrith!
Penrith Towing Service - Tilt Tray
Penrith Towing Service - Tilt Tray
Offering a wide range of transport options, for a wide range of vehicles. Contact us on 0414 869 464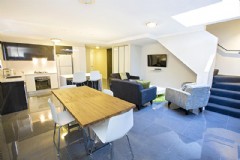 Modern Serviced Apartments in Penrith
Astina Serviced Apartments
1, 2 and 3 bedroom apartments - all the comforts of home at affordable prices.
See also: