News Stories
Penrith Residents to Choose Local Projects to Receive NSW Government Funding
Source: Stuart Ayres MP, Member for Penrith
Archived 19 Sep 2019
- Posted: 22 Jul 2019
Stuart Ayres MP, Member for Penrith encourages local residents to consider which projects will provide the most benefit to our local area and choose what they would like funded as part of the NSW Government's My Community Project program.
Stuart Ayres said voting in Penrith is now open, giving local residents the green light to cast an online vote for between three and five of eleven nominated projects.
Some examples of the nominated projects in Penrith include: The Rotary Club of the Lower Blue Mountains - Whitton Park Glenbrook upgrade, St Thomas Anglican Church Cranebrook - community area upgrade and Lapstone Public School -shade shelter. Details of all nominated projects may be viewed online.
"This is an innovative and exciting program that is putting decision making back in the hands of community members to weigh in on their top picks for projects in the region," Stuart Ayres said.
"It's very easy to vote, all you need is your Medicare card and a free MyServiceNSW account, which also provides quick access to a wide range of NSW Government services, such as the CTP Green Slip refund for eligible policyholders.
"You can also pop down to the local Service NSW centre at 333 High St, Penrith where friendly staff can help residents cast their vote."
Treasurer Dominic Perrottet said My Community Project is a fantastic opportunity for residents to have a direct say about which projects should be delivered in their local community.
"My Community Project is a great example of real grassroots democracy in action, it asked people to think about things their community needs, develop those ideas with a sponsor and tell us how funding could turn that concept into reality," Mr Perrottet said.
Residents in the Penrith electorate can view eligible projects and vote online or by visiting their Service NSW centre.
Voting concludes on 15 August 2019 with successful projects to be announced from September 2019.
A total of $24.4 million is available for eligible projects, with between $20,000 and $200,000 available for each project.
My Community Project is made possible by the NSW Generations Fund.
This article archived 19 Sep 2019
Recent News
What's New
BACH, FAMILY & FRIENDS
Blue Mountains Concert Society
Sat 14 March, 7.30pm, Blue Mountains Theatre, Macquarie Rd, Springwood 2777
Nepean Office Furniture
Nepean Office Furniture and Supplies
See our huge range online or visit us at our showroom: 3 Robertson Place, Penrith!
Penrith Towing Service - Tilt Tray
Penrith Towing Service - Tilt Tray
Offering a wide range of transport options, for a wide range of vehicles. Contact us on 0414 869 464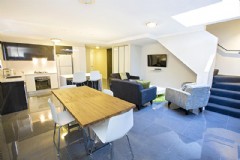 Modern Serviced Apartments in Penrith
Astina Serviced Apartments
1, 2 and 3 bedroom apartments - all the comforts of home at affordable prices.
See also: