News Stories
Shakespeare's A Midsummer Night's Dream by Sport for Jove - 14 & 15 June at The Joan
Source: Joan Sutherland Performing Arts Centre | Penrith Regional Gallery & The Lewers Bequest
Archived 5 Aug 2019
- Posted: 5 Jun 2019
Sport for Jove presents;
A Midsummer Night's Dream
By William Shakespeare
14 June 7.30pm, 15 June 2pm & 7.30pm
In the heat of the shortest night of the year – young lovers and work-a-day dreamers plunge into a world between sleep and waking, where "everything seems double" in the ultimate expression of Shakespeare's theatrical trickery; A Midsummer Night's Dream, showing at The Joan on 14 & 15 June.
The tale follows four Athenian youths as they find themselves lost in a forest under the watchful eye of the fairy King, whose thirst for mischief leads to a series of trials, tribulations and trickery that will unhinge the different relationships between the four unsuspecting mortals - only to reward their suffering with new insight and deserved happiness – and many a laugh along the way.
One of Shakespeare's truly essential works, A Midsummer Night's Dream, like every fairy-story, warns us that family, love and friendship are fragile – when parents are selfish, their children break the rules; when love rears its head, friendships are forgotten; and that's just the mortal world.
Shakespeare's A Midsummer Night's Dream is perhaps the best possible introduction young people can have to the theatre and among the most powerful visions of growing up ever written; moving and full of extraordinary imagination.
This is Shakespeare as you've never seen it before.
For more information please visit the website.

Shakespeare's A Midsummer Night's Dream
---
Date:
14 Jun 2019 7:30 pm
15 Jun 2019 2:00 pm
15 Jun 2019 7:30 pm
Venue:
Joan Sutherland Performing Arts Centre
597 High Street, Penrith NSW 2750
Tickets:
Standard $45 | Concession $40 | Under 30s $30 | Family $120 | Seniors Matinee $30
Available online, phone 4723 7600 or at the Box Office
This article archived 5 Aug 2019
Recent News
What's New
BACH, FAMILY & FRIENDS
Blue Mountains Concert Society
Sat 14 March, 7.30pm, Blue Mountains Theatre, Macquarie Rd, Springwood 2777
Nepean Office Furniture
Nepean Office Furniture and Supplies
See our huge range online or visit us at our showroom: 3 Robertson Place, Penrith!
Penrith Towing Service - Tilt Tray
Penrith Towing Service - Tilt Tray
Offering a wide range of transport options, for a wide range of vehicles. Contact us on 0414 869 464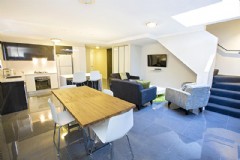 Modern Serviced Apartments in Penrith
Astina Serviced Apartments
1, 2 and 3 bedroom apartments - all the comforts of home at affordable prices.
See also: