News Stories
Spencer - New Australian Comedy Drama Perfect for the Whole Family
Source: Joan Sutherland Performing Arts Centre
Archived 20 Oct 2019
- Posted: 23 Aug 2019
There's no such thing as fun for the whole family…
Told over the course of one weekend in a suburban Australian family home, Spencer tells the story of a tight-knit family led by single-mum matriarch Marilyn and her three adult children – wayward daughter Jules, mouthy coulda- been Ben and AFL golden-boy Scott.
About to meet the young son – Spencer – he never knew he had, Scott and the family have returned home to help mark the occasion. With the surprise appearance of Ian, the father they barely remember, the entire family is forced to work together to clean up both the house and their own fractured relationships as the clock ticks down to Spencer's arrival.
Starring Jane Clifton (Prisoner) and Roger Oakley (Home & Away) and supported by Lyall Brooks (A Prudent Man), Jamieson Caldwell and Fiona Harris, Spencer employs classic Australian vernacular, lashings of humour, and recognisable characters that ask us to consider how much our family defines who we are, if we can exist without them and whether we ever really grow up…
A brand new 90-minute comedy-drama looking at a gloriously dysfunctional Australian family; this is modern story telling at its best!
Audience advice: Strong language. Adult themes
CAST & CREATIVES
Jane Clifton, Roger Oakley, Fiona Harris, Jamieson Caldwell & Lyall Brooks / Cast
Katy Warner / Writer
A Lab Kelpie Production
SPENCER
A NEW AUSTRALIAN COMEDY-DRAMA
by Katy Warner
---
Spencer
Dates & Times:
11 September 7:30 pm
12 September 2:00 pm & 7:30 pm
Venue:
Joan Sutherland Performing Arts Centre, 597 High Street Penrith
Tickets
Standard $60 | Concession $55 | Under 30's $30| Seniors' Matinee $30
This article archived 20 Oct 2019
Recent News
What's New
BACH, FAMILY & FRIENDS
Blue Mountains Concert Society
Sat 14 March, 7.30pm, Blue Mountains Theatre, Macquarie Rd, Springwood 2777
Nepean Office Furniture
Nepean Office Furniture and Supplies
See our huge range online or visit us at our showroom: 3 Robertson Place, Penrith!
Penrith Towing Service - Tilt Tray
Penrith Towing Service - Tilt Tray
Offering a wide range of transport options, for a wide range of vehicles. Contact us on 0414 869 464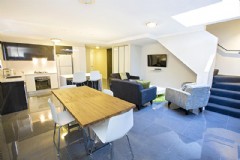 Modern Serviced Apartments in Penrith
Astina Serviced Apartments
1, 2 and 3 bedroom apartments - all the comforts of home at affordable prices.
See also: