News Stories
Stay Safe on Our Roads this Easter Long Weekend
Source: Stuart Ayres MP, Member for Penrith
Archived 17 Jun 2019
- Posted: 18 Apr 2019
Stuart Ayres MP, Member for Penrith is urging every road user to take care this Easter long weekend.
"I want to encourage everyone to celebrate the Easter festivities and enjoy being able to get away over the school holidays, but to do so safely.
"Police officers across the state will be out on our roads to try and reduce the road toll and the message is clear – don't drink and or take drugs, drive to the conditions, slow down and take breaks and remember to look out for other road users.
"April is a busy holiday period with increased traffic movements on our roads so I'm urging motorists to be sensible on the road and make sure they get to their destinations safely," Stuart Ayres said.
Double Demerits come into effect from 00:01hrs on Thursday 18 April and concludes at 11:59hrs on Monday 22 April.
Double demerits apply for speeding, seatbelt, riding without a helmet and mobile phone offences.
This article archived 17 Jun 2019
Recent News
What's New
BACH, FAMILY & FRIENDS
Blue Mountains Concert Society
Sat 14 March, 7.30pm, Blue Mountains Theatre, Macquarie Rd, Springwood 2777
Nepean Office Furniture
Nepean Office Furniture and Supplies
See our huge range online or visit us at our showroom: 3 Robertson Place, Penrith!
Penrith Towing Service - Tilt Tray
Penrith Towing Service - Tilt Tray
Offering a wide range of transport options, for a wide range of vehicles. Contact us on 0414 869 464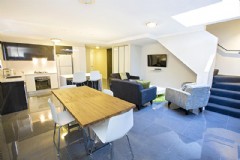 Modern Serviced Apartments in Penrith
Astina Serviced Apartments
1, 2 and 3 bedroom apartments - all the comforts of home at affordable prices.
See also: